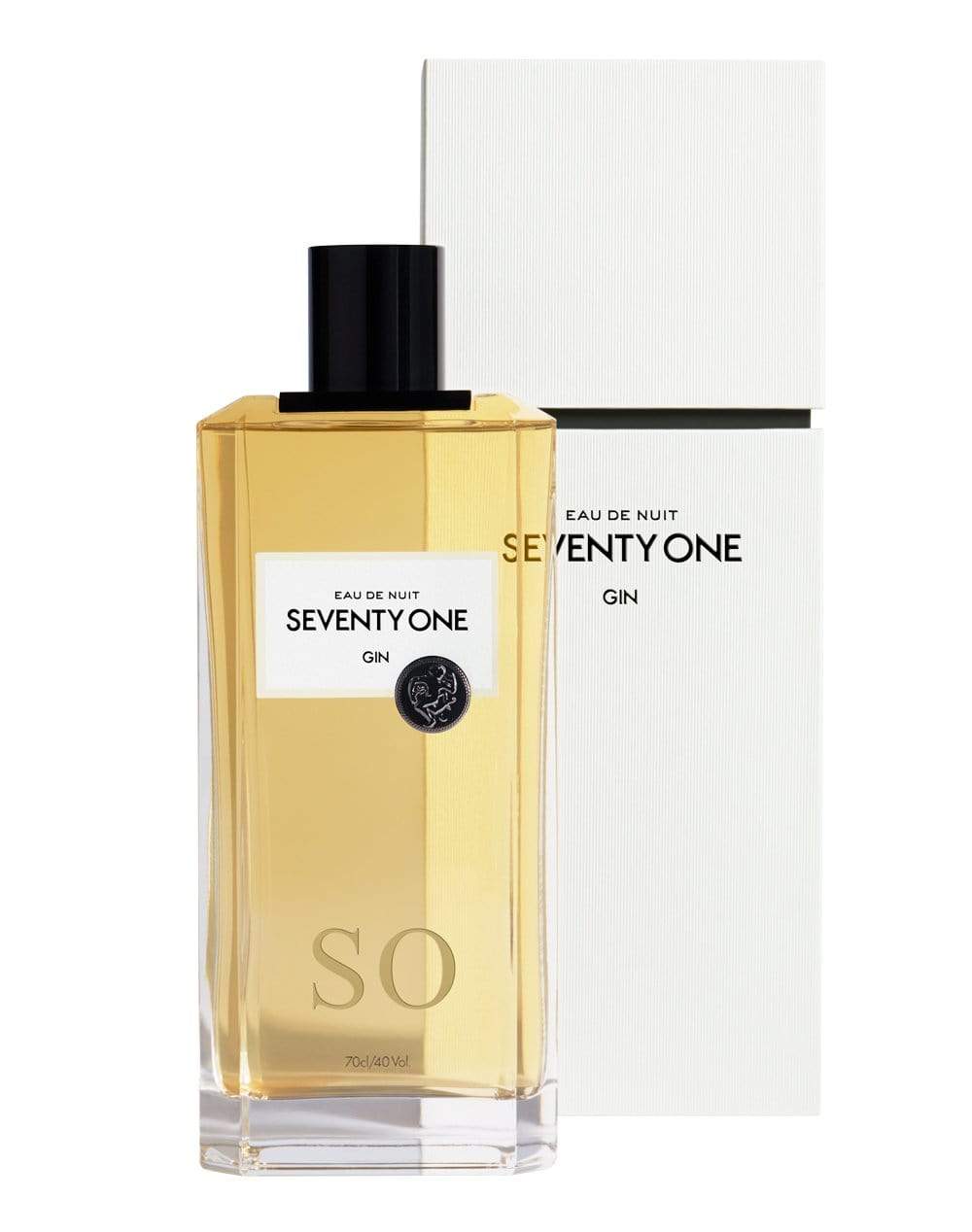 Seventy One Gin
Estimated shipping within 2-3 business days.

*If your product requires personalisation this must be done prior to checkout
Make your mark on this SEVENTY ONE gin bottle. Simply add your message to make it personal.
All personalisations are final, please double check before ordering.
Description

CUSTOMISED BOTTLE OF SEVENTY ONE GIN - Composed like a perfume; aged in the dark & touched by the queen of the night flower (selenicereus grandflorus).

An unparalleled range of aromas give SEVENTY ONE GIN its unique complexity and boldness. Structured to achieve the perfect balance between the heart of the gin and the oak wood and dark chocolate notes from cognac and Pedro Ximenes casks.

Affirming its place as a decadent addition to an opulent night, SEVENTY ONE gin is infused with a rush of caffeine thanks to the rare Guayasa tea leaf from the Amazon, giving SEVENTY ONE gin a singular 'lift'.
Product Details

Weight
2.9 Kg.

Dimensions
9.2 x 6.9 x 20 cm.

Nose
Hand-picked damask rose and grapefruit surround the 'Queen of the Night (selenicereus glandiflorus)', infusing the spirit with a heady, fragrant bouquet. Exceptionally rare, this flower blooms once a year, only at night, wilting before dawn.

Taste
Composed like a perfume, SEVENTY ONE GIN unites a classic gin heart with the finest botanical absolutes.

Finish
Finished in select oak casks, SEVENTY ONE GIN rests for 71 nights. A final nocturnal flourish, marrying the elements with a harmonious accord.

Country of origin
United Kingdom.

Alcohol percentage
4o% volume.

Alcohol Type
Gin.

Volume
700ml.

Storage Instructions
Cool & dark place.

Brand
Seventy One Gin

Manufacturer & Producer
Seventy One Gin

Age Range Description
18 and up.
Personalisation Rules

All our personalised bottles are made to order; the Customer may cancel the order at any time up to two working days after the order was placed with the exclusion of orders which include personalised graphics and or messages in which case clause 9.6 or 10.6 of our terms and conditions will apply.

All personalisations are final, please double check all spelling and selections, once an order is processed we cannot make any further changes.

We will not print orders which may be deemed to carry offensive messages; if this is the case with your personalisation we will contact you to either change the message or fully refund you
Product Shipping

WHICH SHIPPING OPTIONS ARE AVAILABLE?

We offer a variety of shipping options which will be available to you upon checkout.

From the moment the order leaves our warehouse we will send you a text and email message with all your tracking and delivery details attached. All orders are processed Monday through Friday (Saturday is available but only where the service is available and has been selected), excluding Sunday and holidays.

INKD cannot be held responsible for unanticipated delivery delays beyond its control.

WHAT ARE THE SHIPPING FEES?

Shipping fees are calculated at check out based on weight and quantity as a guide please see below:

United Kingdom 2-3 Working Days: £3.99.

Europe : We do not currently offer shipping to the EU.

WHERE DOES INKD SHIP TO?

INKD currently only covers the United Kingdom.
If you don't see your country lists or wish shipping to other countries this may be possible upon request; please get in touch using our contact page if you require this.



IS A SIGNATURE REQUIRED UPON DELIVERY OF MY ORDER?

For security and responsible seller of alcohol reasons, all purchases made on INKD require the signature of the client (or of an adult nominated representative).

The courier may require the person who collects the package to show his/her ID if the person who collects the package looks under the legal drinking age then we will Challenge 25 and ID will be required to prove that they are over the legal drinking age in their territory. Please note buying alcohol when you are under the legal age in your territory or on behalf a minor is a criminal offence.

If no one is available to sign for the package, the courier will make a total of 2 delivery attempts, generally on 2 consecutive business days.

If there is still no one available to sign for the package, after 5 days with no communication, the package will be returned to INKD.

INKD will try to contact the client and to re-ship the package, further shipping fees may incurred if this is the case.

HOW CAN I TRACK MY ORDER?

INKD will send you several e-mails as well as by SMS if we hold a valid mobile number for you during the order process to keep you informed of the status of your purchase.

Please note that we provide tracking links found in the shipment confirmation e-mail and sms; we cannot give you this information over the phone or via email for security reasons.

You will receive a shipment confirmation e-mail with a tracking link in order to track your shipment. We will then e-mail a delivery confirmation once we receive notification from our couriers that your purchase has left the depot and also when your purchase has been delivered.

WHEN CAN I EXPECT DELIVERY OF MY ORDER?

The dates will be listed during checkout.

Please be aware that the dates provided are only estimates, and that your items may arrive sooner or later than anticipated; due to the bespoke nature of INKD whilst we always endeavour to deliver your product within the given delivery window upon order sometimes things outside of our control may delay this.
Customer Reviews